!LINK REL="alternate" TITLE="RSS" HREF="http://feeds2.feedburner.com/fmcnews" TYPE="application/rss+xml" />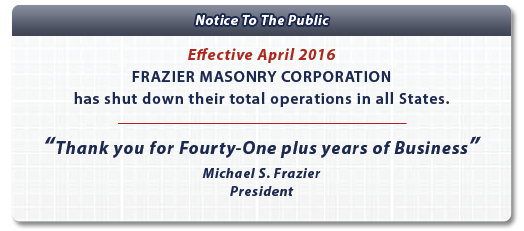 | | |
| --- | --- |
| Glazed CMU Services | |




Frazier brings four decades of commercial masonry construction experience to its Structural CMU services, including the installation of Glazed CMU. Frazier's skilled masons have incorporated this versatile building material at hundreds of commercial and public buildings throughout California and Nevada for both exterior and interior applications.

Glazed concrete masonry units - with a thermoset glazing compound permanently molded to one or more faces - offer numerous benefits such as maintenance free impervious finish, mold - and moisture resistance, weather resistance, design flexibility through a wide variety of colors, shapes and scoring patterns, recycled content, fire protection, and sound absorption.

Glazed CMU Projects

The "can do" attitude and the ability to make and meet commitments by every one of your team contributed greatly toward making this a successful project. We look forward to the opportunity to work together in the future.


- David Yung - Ledcor Construction Inc.