!LINK REL="alternate" TITLE="RSS" HREF="http://feeds2.feedburner.com/fmcnews" TYPE="application/rss+xml" />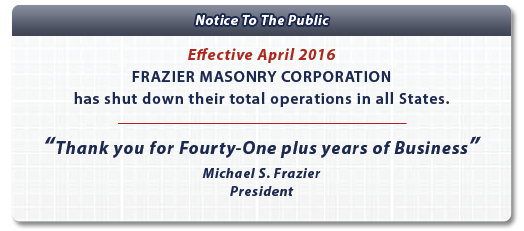 Jobs and Employment Information


To apply for employment with Frazier Masonry Corporation, download and print the application form below. Fill it out and fax it or mail it to the closest division office.



Frazier helped us complete the project ahead of schedule (...) and was instrumental in helping us obtain an Outstanding Final Evaluation for the project. This was a job well done. We look forward to working with Frazier Masonry on future projects.


- Dan Billings - Project Manager - Straub Construction, Inc.