!LINK REL="alternate" TITLE="RSS" HREF="http://feeds2.feedburner.com/fmcnews" TYPE="application/rss+xml" />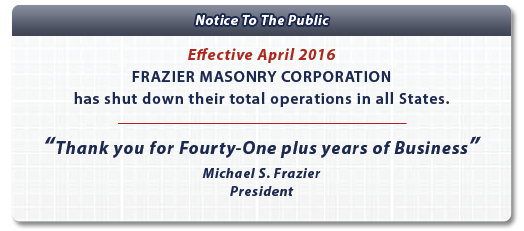 | | |
| --- | --- |
| GFRC Services | |




Glass Fiber Reinforced Concrete (GFRC) has been used for the past 30 years to produce various concrete products including thin architectural cladding systems and ornamental concrete features such as domes, statues, planters, and fountains. It takes time to become proficient with GFRC, there's a lot to know, a lot of variables, training is key.

Frazier understands what it takes to successfully install GFRC systems leading to sustainable, aesthetically-pleasing, durable, energy and cost-efficient construction as well as a lighter building structure. Frazier's experienced team has successfully completed a number of GFRC projects throughout Nevada and California, including the sophisticated, mixed-use, 700,000 SF Palladio Lifestyle Center at Broadstone in Folsom, California with its Italian architecture inspired design elements.

GFRC Projects

The "can do" attitude and the ability to make and meet commitments by every one of your team contributed greatly toward making this a successful project. We look forward to the opportunity to work together in the future.


- David Yung - Ledcor Construction Inc.