!LINK REL="alternate" TITLE="RSS" HREF="http://feeds2.feedburner.com/fmcnews" TYPE="application/rss+xml" />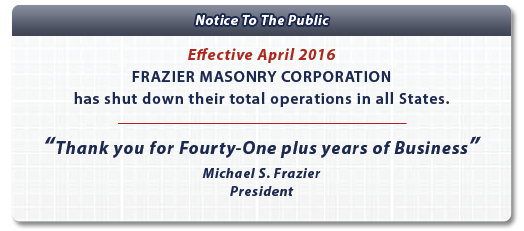 | | |
| --- | --- |
| Design-Build Services | |




As one of the most significant trends in design and construction today, the design-build delivery method enhances the overall project performance by unifying the flow of work from initial concept through completion. As a design-build subcontractor, Frazier brings four decades of commercial construction experience to assist the project owner and the design-build team in realizing more efficient and constructible designs.

Frazier provides value in a number of ways throughout the design-build process. Integral to Frazier's job set-up process is providing professional consultation to the design team, general contractor or project owner regarding masonry, concrete material and design aspects and value engineering in order to ensure the final architectural appearance surpasses the customer's expectations, while helping to meet and exceed project schedule expectations.

Frazier coordinates with suppliers to confirm that they understand project requirements and custom specifications so that the specified materials are delivered to the project on time, every time. As a result of this integrated team approach, Frazier and its partners have worked successfully to complete numerous projects throughout California and Nevada while promoting efficiency and innovation.

Advantages of design-build projects include:


Single Point of Responsibility
Improved Project Quality & Risk Management
Faster Delivery
Decreased Administrative Burden
Earlier Knowledge of Guaranteed Costs
Time & Cost Savings

Design-Build Projects

The "can do" attitude and the ability to make and meet commitments by every one of your team contributed greatly toward making this a successful project. We look forward to the opportunity to work together in the future.


- David Yung - Ledcor Construction Inc.