!LINK REL="alternate" TITLE="RSS" HREF="http://feeds2.feedburner.com/fmcnews" TYPE="application/rss+xml" />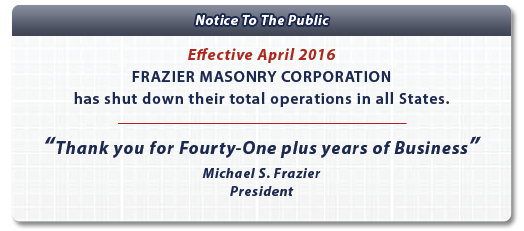 | | |
| --- | --- |
| Concrete Spandrels Services | |




Concrete spandrels / lintels are part of the full Structural Concrete services offered by Frazier. Typically used in parking structures to provide support for the precast deck system as well as the height requirement for the perimeter parapet wall, spandrels offer great benefits to project owners, architects, engineers and contractors from using structural precast concrete products to the ability to design and build structural components.

Over the years, Frazier has successfully completed numerous projects incorporating concrete spandrels and other architectural precast concrete elements throughout the states of Nevada and California.

Frazier helped us complete the project ahead of schedule (...) and was instrumental in helping us obtain an Outstanding Final Evaluation for the project. This was a job well done. We look forward to working with Frazier Masonry on future projects.


- Dan Billings - Project Manager - Straub Construction, Inc.