!LINK REL="alternate" TITLE="RSS" HREF="http://feeds2.feedburner.com/fmcnews" TYPE="application/rss+xml" />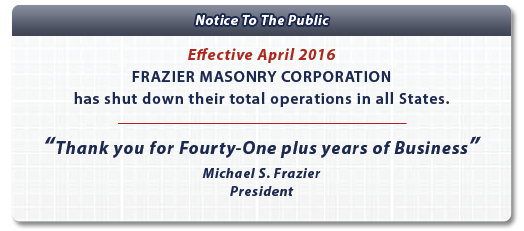 | | |
| --- | --- |
| Concrete Spandrels Services | |




Concrete spandrels / lintels are part of the full Structural Concrete services offered by Frazier. Typically used in parking structures to provide support for the precast deck system as well as the height requirement for the perimeter parapet wall, spandrels offer great benefits to project owners, architects, engineers and contractors from using structural precast concrete products to the ability to design and build structural components.

Over the years, Frazier has successfully completed numerous projects incorporating concrete spandrels and other architectural precast concrete elements throughout the states of Nevada and California.

We want to personally thank you for a job well done, your company's performance and completing your scope of work within the project schedule is greatly appreciated. It is subcontractors like you that we greatly appreciate and hope to continue to work with in the future.


- Joe Knight - President - Reeve-Knight Construction, Inc.