!LINK REL="alternate" TITLE="RSS" HREF="http://feeds2.feedburner.com/fmcnews" TYPE="application/rss+xml" />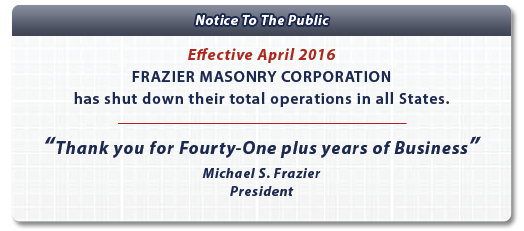 | | |
| --- | --- |
| Concrete Paving Services | |




Frazier's full range of Concrete Paving services include concrete approaches, concrete curbing, concrete sidewalks, cast-in-place floors, and all forms of decorative flatwork. Frazier's experienced team of concrete technicians has worked diligently to complete numerous commercial concrete paving projects on schedule and within budget throughout the states of California, Nevada and Utah. They hand-placed, laser screed placed concrete paving in both 2D and 3D applications & conditions.

In early 2012, Frazier became one of the first multi-state concrete companies to adopt robotic total station technology for standard layout tasks. This leap to a robotic instrument was groundbreaking and offers many advantages, compared to string lines and tape measures. Most layout work can be done faster, with one man, rather than a two-man crew and is more accurate and final results are even better with provided post layout of templated bolts. Frazier utilizes this technology on all layout aspects of every project.


Concrete Paving Projects

The "can do" attitude and the ability to make and meet commitments by every one of your team contributed greatly toward making this a successful project. We look forward to the opportunity to work together in the future.


- David Yung - Ledcor Construction Inc.