!LINK REL="alternate" TITLE="RSS" HREF="http://feeds2.feedburner.com/fmcnews" TYPE="application/rss+xml" />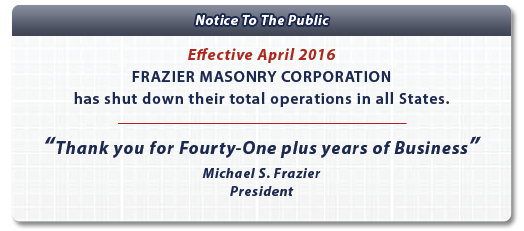 Frazier project wins Top 3 ICF Builder Award

17 Dec 2014

Fire Station 108 in Las Vegas, NV was selected as a Top 3 winner of the prestigious ICF Builder Award, awarded to the best of the best in the Insulated Concrete Form (ICF) industry. Frazier partnered with Core Construction Services on the station's construction. ICF buildings represent a growing trend in the concrete construction industry. The ICF building envelope helps resists harmful mold, dust and allergens, along with powerful wind, storm and fire damage, provides a superior R-value compared to other envelope technologies, and is made of recycled materials. The awards reception will be held as part of the World of Concrete trade show in February, 2015. View project photos here.

Frazier helped us complete the project ahead of schedule (...) and was instrumental in helping us obtain an Outstanding Final Evaluation for the project. This was a job well done. We look forward to working with Frazier Masonry on future projects.


- Dan Billings - Project Manager - Straub Construction, Inc.