!LINK REL="alternate" TITLE="RSS" HREF="http://feeds2.feedburner.com/fmcnews" TYPE="application/rss+xml" />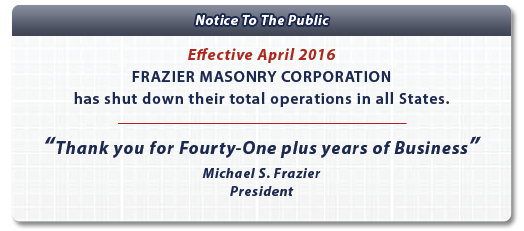 | | |
| --- | --- |
| Value Engineering Services | |




As a major player in construction in the Western US for the last 20 years, Frazier provides unparalleled excellence in value engineering, preconstruction planning, and schedule-driven projects. Frazier has one of the longest track records of delivering challenging, large scale commercial masonry and concrete construction on time and within budget, while streamlining the procurement process by offering a combination of concrete and masonry services.

Integral to Frazier's job set-up process is providing professional consultation to the design team, general contractor or project owner regarding material and design aspects and value engineering in order to ensure the final architectural appearance surpasses the customer's expectations, as well as meeting and exceeding project schedule expectations.

We want to personally thank you for a job well done, your company's performance and completing your scope of work within the project schedule is greatly appreciated. It is subcontractors like you that we greatly appreciate and hope to continue to work with in the future.


- Joe Knight - President - Reeve-Knight Construction, Inc.