!LINK REL="alternate" TITLE="RSS" HREF="http://feeds2.feedburner.com/fmcnews" TYPE="application/rss+xml" />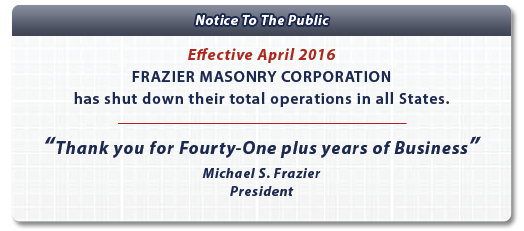 | | |
| --- | --- |
| Precast Services | |




As an experienced commercial concrete contractor, Frazier delivers unparalleled value installing precast wall panels and other architectural concrete precast products. Precast products are formed at a manufacturing facility and transported to the job site rather than formed directly at the site where environmental factors and the construction schedule preclude tilt-up wall as a viable option. For a precast construction project, the panels must be smaller and more manageable to allow trucks to haul them over the road to their final destination. This places greater design restrictions on architects and limits the applications where precast construction can be used.

Frazier's team of highly-qualified concrete technicians has installed a wide range of commercial precast concrete projects including high schools & college campuses, hotels and resorts, theater complexes, multi-level parking structures, and commercial retail centers.


Precast Projects

Frazier helped us complete the project ahead of schedule (...) and was instrumental in helping us obtain an Outstanding Final Evaluation for the project. This was a job well done. We look forward to working with Frazier Masonry on future projects.


- Dan Billings - Project Manager - Straub Construction, Inc.