!LINK REL="alternate" TITLE="RSS" HREF="http://feeds2.feedburner.com/fmcnews" TYPE="application/rss+xml" />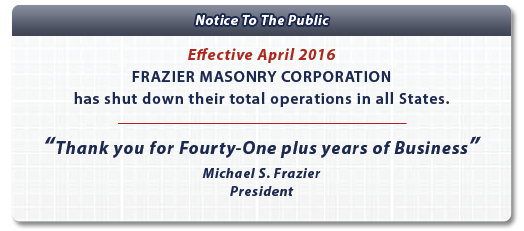 | | |
| --- | --- |
| Manufactured Stone Veneer Services | |




As a full service masonry subcontractor with four decades of experience in both commercial and residential masonry applications, Frazier's team of highly-skilled masons provided manufactured stone veneer installation services for numerous projects throughout Nevada and California including large commercial retail centers, hotels and resorts, theater multiplexes, clubhouses, and storage centers. These hand crafted architectural stone veneers - from brick veneers to panelized stacked stone veneer - help create memorable spaces. They are cast to simulate natural stone and are designed to complement a variety of architectural styles.

Frazier has the expertise to deliver a first-class masonry installation with the design support and project management necessary to bring your design dreams to reality on-time and on-budget.

Manufactured Stone Veneer Projects

Frazier Masonry was timely, professional and cost-effective. Thank you for being a part of this project. I look forward to working with you again in the future.


- Amer Soudani - P.E. - Parking Structure Builders Inc.