!LINK REL="alternate" TITLE="RSS" HREF="http://feeds2.feedburner.com/fmcnews" TYPE="application/rss+xml" />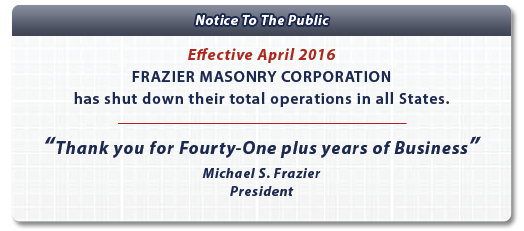 | | |
| --- | --- |
| Glass Block Services | |




Frazier's experienced masons have installed impressive glass block designs over the years. With both functional and decorative properties, architectural block products can be used as room dividers, walls, partitions, windows, skylights, shower walls, fireplaces, floors, and more. When the glass is textured, it affords privacy, while blocks with large faces will let in more light, and thin blocks are better for windows.

Frazier can install large scale glass block projects with complicated design elements, allowing project owners to combine the delicate beauty and light transmission of glass with the strength of glass block for creating aesthetically pleasing and energy efficient spaces.

Glass Block Projects

The "can do" attitude and the ability to make and meet commitments by every one of your team contributed greatly toward making this a successful project. We look forward to the opportunity to work together in the future.


- David Yung - Ledcor Construction Inc.