!LINK REL="alternate" TITLE="RSS" HREF="http://feeds2.feedburner.com/fmcnews" TYPE="application/rss+xml" />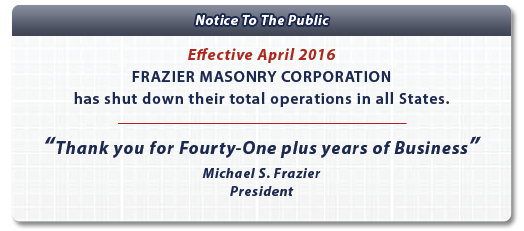 | | |
| --- | --- |
| Concrete Sidewalk Services | |




Commercial concrete sidewalks are part of the comprehensive Concrete Paving services offered by Frazier in California and Nevada. Numerous office buildings, commercial retail projects and warehouses benefited from the high-quality, durable concrete sidewalks installed by Frazier's team of experienced concrete technicians. Frazier also offers other alternatives such as exposed aggregate sidewalks, multi-grooved sidewalks, stamped and colored concrete, plus many other types of sidewalk installations.

Concrete Sidewalk Projects

We want to personally thank you for a job well done, your company's performance and completing your scope of work within the project schedule is greatly appreciated. It is subcontractors like you that we greatly appreciate and hope to continue to work with in the future.


- Joe Knight - President - Reeve-Knight Construction, Inc.