!LINK REL="alternate" TITLE="RSS" HREF="http://feeds2.feedburner.com/fmcnews" TYPE="application/rss+xml" />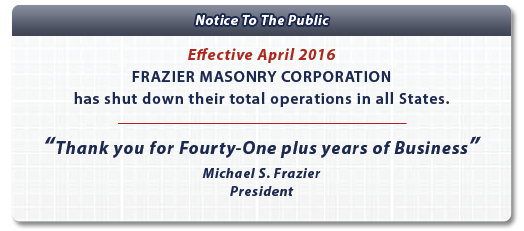 | | |
| --- | --- |
| Concrete Curb Services | |




Commercial concrete curbing is part of the comprehensive Concrete Paving services offered by Frazier Concrete in California and Nevada. From trenching, to concrete curb placement and finishing, Frazier has been installing high-quality, heavy-duty commercial curbing on a wide range of applications including private retail projects, commercial-scale warehouses, office buildings and parking lots utilizing handset methods as well as machine-placed curb with daily productions of over 5000 LF/day.

Concrete Curb Projects

We want to personally thank you for a job well done, your company's performance and completing your scope of work within the project schedule is greatly appreciated. It is subcontractors like you that we greatly appreciate and hope to continue to work with in the future.


- Joe Knight - President - Reeve-Knight Construction, Inc.