!LINK REL="alternate" TITLE="RSS" HREF="http://feeds2.feedburner.com/fmcnews" TYPE="application/rss+xml" />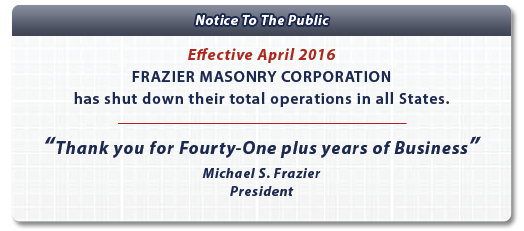 | | |
| --- | --- |
| Cast-In-Place Concrete Services | |




This cost effective building technology is just one of the comprehensive commercial concrete services offered by Frazier, whose skilled cast-in-place construction work can be seen in numerous buildings throughout California and Nevada. From placing formwork and shoring to placing reinforcement and then pouring concrete, Frazier's concrete workers provide superior quality with on-time execution as can be evidenced in the challenging, radius, form liner, cast-in-place walls they poured at the University of Nevada, Reno's Medical Education Learning Lab.

An integral part of Frazier Concrete's structural concrete offerings, cast-in-place (CIP) concrete systems provide many benefits including strong walls for safety and disaster resistance; mold, rot, mildew, and insect resistance; sound blocking ability; and if coupled with appropriate insulation, improved energy performance and resultant cost savings.

Cast-In-Place Concrete Projects

The "can do" attitude and the ability to make and meet commitments by every one of your team contributed greatly toward making this a successful project. We look forward to the opportunity to work together in the future.


- David Yung - Ledcor Construction Inc.