!LINK REL="alternate" TITLE="RSS" HREF="http://feeds2.feedburner.com/fmcnews" TYPE="application/rss+xml" />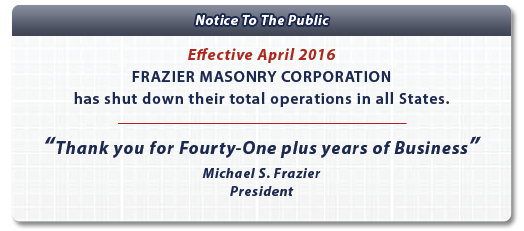 Washoe County Regional Animal Shelter and UNLV Student Union Awarded Nevada Best of 2006

31 Dec 2006

Southwest Contractor Awarded Frazier Masonry Corporation two Nevada Best of 2006 Awards. The first was for the Best of 2006 Public Project Under $25 Million - Masonry Project as the Masonry Contractor on the Washoe County Regional Animal Shelter. The second was for the Best of 2006 Higher Education Project as a major subcontractor on the UNLV Student Union. Click here to download a PDF of the article.

Frazier helped us complete the project ahead of schedule (...) and was instrumental in helping us obtain an Outstanding Final Evaluation for the project. This was a job well done. We look forward to working with Frazier Masonry on future projects.


- Dan Billings - Project Manager - Straub Construction, Inc.