!LINK REL="alternate" TITLE="RSS" HREF="http://feeds2.feedburner.com/fmcnews" TYPE="application/rss+xml" />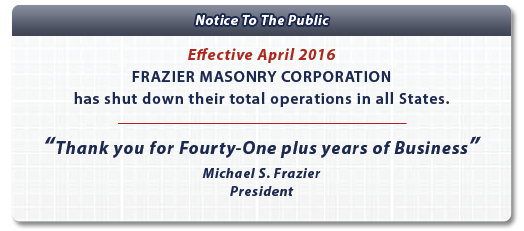 Frazier proudly fields apprentices on San Diego Airport project

07 Feb 2015

While performing the structural masonry scope of a massive 2-million-square-foot rental car center at San Diego International Airport, Frazier fielded apprentices alongside their team of seasoned journeymen to provide learning opportunities through training and promote careers in the masonry industry. Set to open in 2016, this new facility is expected to reduce traffic congestion dramatically at San Diego Airport. View team photo here.

Frazier Masonry was timely, professional and cost-effective. Thank you for being a part of this project. I look forward to working with you again in the future.


- Amer Soudani - P.E. - Parking Structure Builders Inc.