!LINK REL="alternate" TITLE="RSS" HREF="http://feeds2.feedburner.com/fmcnews" TYPE="application/rss+xml" />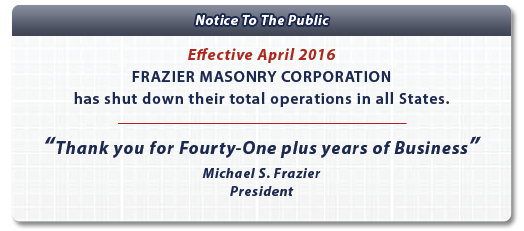 Frazier Masonry Corporation's Update

01 Mar 2016

As of September 2015 Frazier Masonry Corporation has stopped all operations and surrendered its licenses in the state of Nevada. For further inquiries contact the Lancaster office at 661-942-1287.

The "can do" attitude and the ability to make and meet commitments by every one of your team contributed greatly toward making this a successful project. We look forward to the opportunity to work together in the future.


- David Yung - Ledcor Construction Inc.