!LINK REL="alternate" TITLE="RSS" HREF="http://feeds2.feedburner.com/fmcnews" TYPE="application/rss+xml" />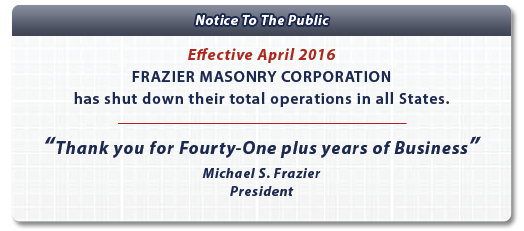 Frazier Masonry Corporation's Update

01 Mar 2016

As of September 2015 Frazier Masonry Corporation has stopped all operations and surrendered its licenses in the state of Nevada. For further inquiries contact the Lancaster office at 661-942-1287.

Frazier Masonry was timely, professional and cost-effective. Thank you for being a part of this project. I look forward to working with you again in the future.


- Amer Soudani - P.E. - Parking Structure Builders Inc.