!LINK REL="alternate" TITLE="RSS" HREF="http://feeds2.feedburner.com/fmcnews" TYPE="application/rss+xml" />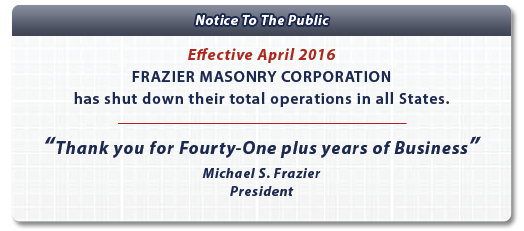 Frazier Masonry Corporation's Update

01 Mar 2016

As of September 2015 Frazier Masonry Corporation has stopped all operations and surrendered its licenses in the state of Nevada. For further inquiries contact the Lancaster office at 661-942-1287.

We want to personally thank you for a job well done, your company's performance and completing your scope of work within the project schedule is greatly appreciated. It is subcontractors like you that we greatly appreciate and hope to continue to work with in the future.


- Joe Knight - President - Reeve-Knight Construction, Inc.