!LINK REL="alternate" TITLE="RSS" HREF="http://feeds2.feedburner.com/fmcnews" TYPE="application/rss+xml" />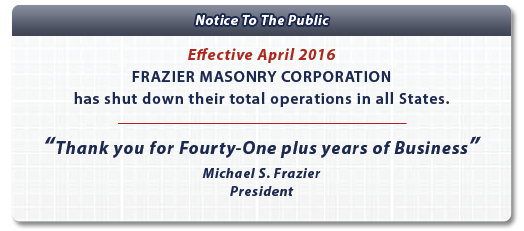 Frazier celebrates 41st Anniversary

20 Mar 2015

On March 11, 2015 Frazier commemorated 41 years in the construction industry. As a full service concrete and masonry contractor serving the states of California and Nevada, Frazier has one of the longest track records of delivering challenging, large scale commercial masonry and concrete construction on time and within budget.

Frazier Masonry was timely, professional and cost-effective. Thank you for being a part of this project. I look forward to working with you again in the future.


- Amer Soudani - P.E. - Parking Structure Builders Inc.